---
Schedule:


July 28, 2018 (Sat) ***SPECIAL FETISH PARTY!*** - THE TOKYO KINK SOCIETY 15th ANNIVERSARY FETISH BALL! - 11:45PM Open @ Shibuya ICON! (Fantasy / Fetish / Cosplay Dresscode only!)
November 23, 2018 (Fri) Oasis Fetish Salon! : 8:00PM - 11:00PM @ Ebisu SUREE! (no dresscode)
February 16, 2019 (Sat) *** FETISH PARTY! *** - THE GATE! - 11:45PM Open @ Shibuya ICON! (Fantasy / Fetish / Cosplay Dresscode only!)



---
Announcements:
180808


Thank You! - 15 years of Tokyo Kink Society! - The Anniversary Fetish Ball!
Thank you to everyone who joined Tokyo Kink Society to celebrate at the 15th Anniversary Fetish Ball on July 28th 2018 in Shibuya, Tokyo! On this stormy night (much like one of our first events 15 years ago!), we had a great turnout and evening celebrating 15 years of the Tokyo Kink Society with terrific shows, pole dance, art and music (and tasty TKS Chocolate Cake!). Pictures of guests from the photo-OK room and the stage of this very special event are in the Tokyo Kink Society online Photo Gallery for people who could not attend!



TKS 15th Anniversary Ball - Photographer: Taro Rutsubo


It has been a very exciting 15 years since the early days of our first public event in a very small venue called 'Luna Si Soare' as well as the home parties that preceded that! Since then, TKS has become a family of exciting as well as respectful artists and sexy fashionable people! It is today the largest non-profit fetish underground art and performance group in Japan!

Thank you to everyone over the years who have made TKS into what it is today, especially all the volunteers, performers and artists who have added so much to the concept since it began!



TKS 15th Anniversary Ball - Photographer: Taro Rutsubo


We look forward to see everyone at future TKS events and at future anniversaries!


Charm and the Tokyo Kink Society Organizing Committee
---
180221
July 28, 2018! - The Tokyo Kink Society - THE GATE! - 15th Anniversary Special Fetish Ball!

Tokyo Kink Society grew out of home-parties held at the organizer's home in 2002 and started its first nightclub event in late 2003 with an event called 'Tokyo Fetish Ball' at a small Roppongi club called Luna Si Soare. The event was very successful and held again early in 2004, doubling attendance. From there, this event, a strict dresscode fetish party with shows and alternative art was renamed to "The Gate!", and continued to grow to become event that still runs today on a regular schedule in central Tokyo.

A smaller lounge event called "TKS lounge" was also started by Tokyo Kink Society in 2004, and was later transformed to a pole-dance, shibari and DJ event called "Oasis Lounge" that also still runs regularly today. From there, Tokyo Kink Society continued to grow, finally producing the large scale Japan Fetish Ball, with world renowned performers from all over the world on multiple floors and several stages at the much larger Christon Cafe nightclubs in Shibuya and Shinjuku.

It is hard to believe that 15 years have past since those early days!

Please join us to celebrate the 15th anniversary of the Tokyo Kink Society with a very special Fetish Ball at Shibuya's ICON club on Saturday July 28th, 2018. There will be incredible shows including Japanese traditional shibari by Hajime Kinoko, one of the worlds most famous Kinbaku (rope bondage) artists!

NEXT
EVENT!
TKS - THE GATE!
15th ANNIVERSARY FETISH BALL!
THE GATE SPECIAL!


LUXURIOUS NIGHTCLUB!
Special venue!.. Special shows!.. Special Night!..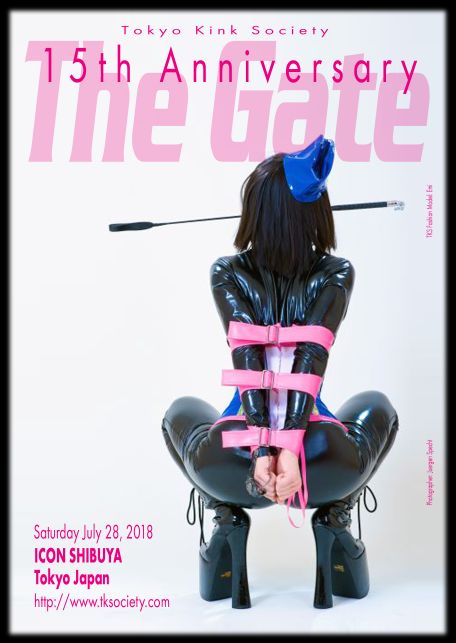 TKS Fashion Model: EMI! Photographer: Juergen Specht
July 28, 2018 (Sat)
@
ICON LOUNGE!
(luxurious venue!)
Shibuya, Tokyo!
11:45pm open!
(Tokyo, Japan - Shibuya Metro Station)
Dougenzaka 2-23-12 (3F), Shibuya Ku, Tokyo
[across from Tokyu / Bunkamura]
Tel: 03-6277-5987
11:45PM START!
5:00AM END
To Enter ICON LOUNGE
* * * YOU MUST BRING ID PROOF OF AGE * * *
(Japan National Insurance Card,
Drivers License, Passport, Gaijin Card..etc)
STRICT DRESSCODE ONLY!
FANTASY, SM, FETISH, GOTH, COSPLAY, CYBER..ETC!
NO STREETWEAR!
**NO CAMERAS! - NO VIDEO!**
We are in a new luxurious club on one floor so our high heel wearers no longer have to deal with stairs!
ICON is a beautiful club with stage, excellent sound and classy decor!


Space!
Special Shows!
Kinbaku!

by Hajime Kinoko!
He is one of the current world shibari superstars.

Hajime Kinoko is known all over the world for his artistic displays of intricate shibari - taking rope work past a series of knots and transforming it into an authentic art form.





Exotic! by LUNA BLACKMARIA!
She is a dancer, exotic performer and snake charmer. She will capture you too in her trance!






On this special 15th Anniversary Ball of the Tokyo Kink Society, we are very excited to welcome back Dance Unit 86B210. They performed at very early TKS events many yesr ago, and will return with their fluidity of movement and alternative dance to the stage.








Light and lasers follow Ayumi as she brings cyber and movement to the stage at the 15th Anniversary Fetish Ball. Your eyes will not be able to keep up with her!

DJs!
DJ A04! (from * Authority-Four * )! - Special Return!

A04 returns to Tokyo Kink Society! A04\92s mixes celebrate an electronic heritage that dates back to Kraftwerk, which has continued to diversify into the present.You can hear your favorite new wave, synth, futurepop, elektroclash, darkwave, ebm and industrial songs by your favorite artists as well as hear music for the first time that you will want to hear again. You will forget the world outside and get lostwandering in the music!


DJ KHIMAIRA (from * INFERNO * ) !
Calling as our guest DJ from Club Inferno, Khimaira has DJ'd at famous fetish events around the world including Demonia and Nuit Elastique in Paris, France. Breaking first into Japan's goth and industrial scene over five years followed by a tour in Europe, his outrageous style and reputation for brutal-stomping nocternal pulse pounding mixes is known the world over in the underground industrial fetish music scene!



Playing mainly Technoize/Aggrotech/Dark Psyche, she sounds deep and hard Goth, and dark and beautiful mix of Electro over the floor.


DJ Sota started his career in 1984, and 10 years later founded the music label DISCO KING RECORDS, releasing four 12 inch
singles. A specialist in Techno, House Anthems, in 2001 he brought London's famous fetish club party "TORTURE GARDEN" to
Japan, and later DJ'd at Torture Garden main event in London. Sota
comes bringing fashionable deep house and Techno!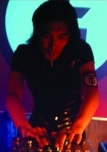 Starting as a DJ at a radio station in Honolulu, Hawaii, Zil moved to New York City and soon encountered the city's underground
club scenes. After returning to his homeland, he brought New-York-style fetish parties to Japan. He soon created new club
scenes with the conception of "contents", by organizing various events such as strict dress-coded "Tokyo Perve", and female
domination themed "Domina-Trix"as well as non-nude-erotic "Nonaishasei". As a DJ, he plays actively at Tokyo fetish parties
including "Libido M&J" and "Domina-trix".


Floor Performers!

TKS Pole Dance Unit!

Campaign and Gogo girls!

THE GATE's own lovely pole dancers (KIE!, LISA!

LUNA! NORA NECO!

NSY!)

and campaign girls will be on the event floor to entertain guests and add to the enchanting mood of this very special evening.














Sheesha Corner!

Middle Eastern Water Tobacco (Sheesha / Hookah!) by Topaz!







Shops!
Fashion by EMINENCE!
Nawa goods by OSADA KAZUMI!
Bodypaint by GAI!
Leather good by GINRYUUDOU!

..and more!

Entrance:
3500 yen (includes 1 free drink!)

3000 yen with flyer (includes 1 free drink!)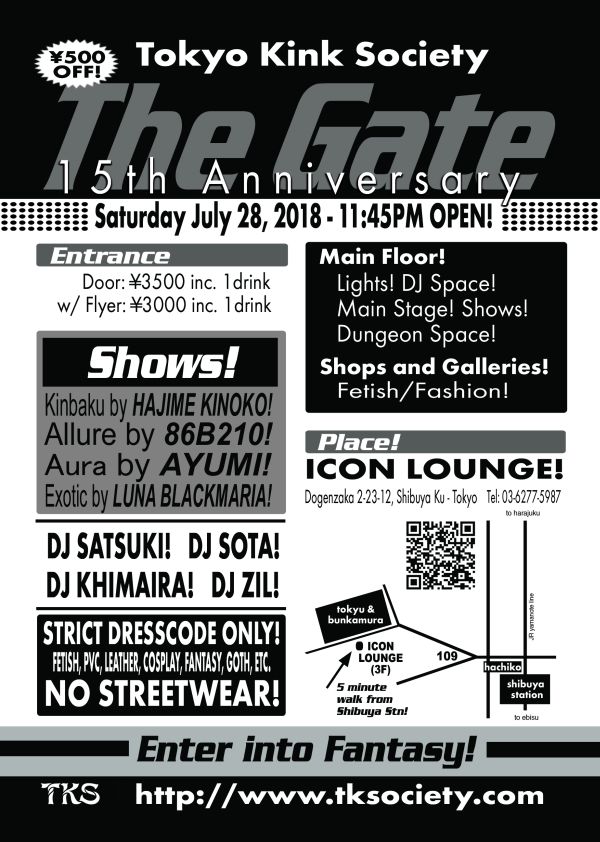 The Tokyo Kink Society
15th Anniversary Fetish Ball!

Special venue!.. Special shows!.. Special Night!..


ICON LOUNGE!
Shibuya (Shibuya station), Tokyo


BE WITH US ON

Saturday July 28, 2018!
---

170519
"Oasis" fetish lounge returns! - next at Ebisu SUREE on Friday July 20, 2018!
OASIS Lounge returns in force to Ebisu SUREE! SUREE is a stylish and intimate club near Ebisu station! Rope suspension is also returning to OASIS after a long absence! The club has a cool modern decor and comfortable spaces in a DJ setting! Bondage art and poledancing by TKS Oasis girls also return to this lovely location in Ebisu on the Yamanote line!



We look forward to see you at TKS Oasis Lounge!

More about "Oasis" fetish lounge!



The name "Oasis" represents the concept of a relaxed, no-dresscode casual DJ lounge event where open minded people can assemble, meet and discuss with others about alternative lifestyles while making new friends.


Our in-house DJs serve up a pleasant mix of relaxing and underground lounge music throughout the evening. There is a dance pole in the club for poledancing time by TKS performers. There is a suspension rope bondage show time.

Members of TKS are also on hand to welcome new visitors and talk about our group as well as about the Tokyo alternative world. They are there to make a nice atmosphere for people interested in the Japan underground art, fetish and fantasy underground scene and who wish to meet others who are similarly open minded.


Oasis is a casual lounge event with no dresscode. Feel free to join us - all are welcome!


Event:
Oasis Salon (Casual DJ Lounge and chat event)
Place:
Ebisu SUREE! (2F Floor) Tel: 03-3400-1383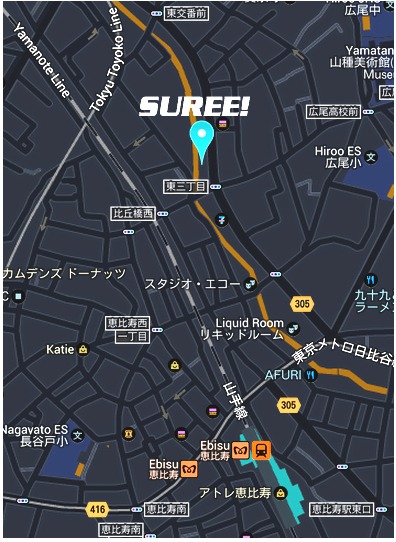 2-24-4 Higashi, Shibuya Ku, Tokyo


(Paste the above address in google-maps - it will take you there!)


When:

Periodically: Please see schedule at top of page

Entrance cost:

500 yen

Drinks charge:

500yen ~ 1000 yen

(please buy at least 1 drink from bar so they keep welcoming us)


Other Charges:

None

(there are no other charges)

Dresscode:

None



The Tokyo Kink Society Organization Committee